Properties List by Categories
Properties List by Region
Click on a Region to view the list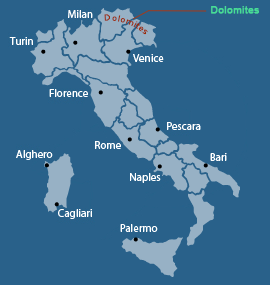 BUY A PROPERTY in TUSCANY or in ITALY, now is the right time!
Make your dreams come true and own your own home in the soft rolling countryside of Tuscany and turn it also into a business; buy an agritourism, a resort or a B&B in the country; a getaway in the country is the most desirable choice of holiday by the international and sophisticated traveller, and bookings are full year after year.
Invest in a Wine Estate in Italy, one of the leading Italian export sectors, in constant and surprising growth.
Or buy for yourself, your family and friends, a house, or an apartment, in Italy as a base for your holidays at the sea or on the snow, easily reachable from all over Europe, by plane or car.
The real estate market in Italy has crashed with the recent years of economic crisis and now is at its lowest, but it is beginning to show signs of picking up; this is the unrepeatable moment to buy a deal of a property in Italy, don't miss out!!
We offer our clientele a carefully chosen selection of properties plus legal, fiscal and thorough technical assistance during the entire buying process; from the choice of property, purchasing and renovation right through to the management of the property. Contact us now.
In all of Italy, particularly in Tuscany and the Dolomites, we offer beautiful stone farm houses, rural properties, agricultural and wine estates, resorts, historical luxury villas, castles, hotels, bed&breakfast, coastal houses and villas, mountain chalets, town houses and apartments;
an architectural patrimony of priceless value and unique beauty, where each stone, each brick, tells a story of Italy, the country in the middle of the Mediterranean, where civilisation, art and the modern culture were born, the patrimony of all humanity.
a country blessed with sunshine and a mild mediterranean climate, which allows its inhabitants to enjoy the outdoors almost all year, surrounded by a harmonious landscape and amiable nature, that Man has modelled and adapted to his or hers means with respect and admiration; and has been repaid with the delicious fruits of nature such as olive oil, wine, wheat, vegetables and fish, the fundamental ingredients of the Mediterranean diet recognised by todays scientists as the best in the world.
a 'bel paese' (a beautiful country) is often how Italy is called, with thanks to the beauty of the country's works of art, landscapes, cultural history, traditions, food, wine, sun, sea, or in other words because of the overall mix of qualities that make up 'la dolce vita' ( sweet life) Italy beckons a growing number of tourists each year, millions upon millions, who visit enthused and yearning to own a house, or at best to stay for a fews weeks each year.
a unique property market, that guarantees stable and recuperable investments, because of the flourishing tourist travel business, ideal for long term investments.
Look through our offers, chosen carefully and faithfully represented; you'll find the one best suited to your desires; otherwise contact us with your specific requests, to which we'll reply, in a short time, with a shortlist of new proposals.
We offer a privileged insight into the property market, gathered from a vast experience in the tourist sector, an in depth knowledge of the area and its territory, and above all in Tuscany, a network of contacts which allows us keep our offers constantly up to date. For this reason, through this website, we have decided to present these proposals to our clientele. We do not introduce ourselves as estate agents but as competent and trustworthy consultants.
You will find us, and our team of collaborators, ideal partners to accompany you throughout a property transaction, which is neither fast or simple, in Italy: from the choice of a property, negotiation, legal and fiscal consultancy, through to the final contract; to the professional assistance for any eventual renovation or building work, or normal or extraordinary maintenance work on the property; and finally any business management of the property.