Links to Parners & Interesting Sites
Links to Parners & Interesting Sites
Links to Parners & Interesting Sites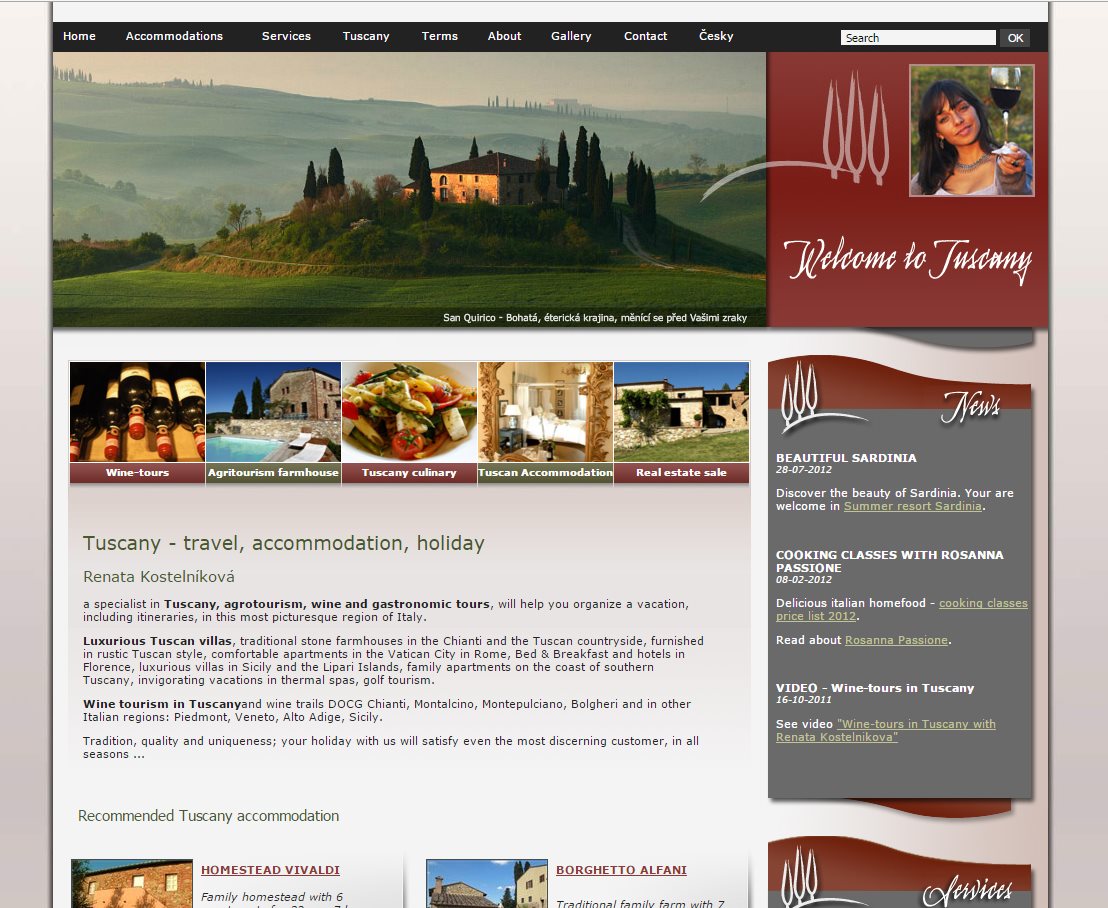 Tuscany Dreams
Tuscany - travel, accommodation, holiday
Renata Kostelníková
a specialist in Tuscany, agrotourism, wine and gastronomic tours, will help you organize a vacation, including itineraries, in this most picturesque region of Italy.
Luxurious Tuscan villas, traditional stone farmhouses in the Chianti and the Tuscan countryside, furnished in rustic Tuscan style, comfortable apartments in the Vatican City in Rome, Bed & Breakfast and hotels in Florence, luxurious villas in Sicily and the Lipari Islands, family apartments on the coast of southern Tuscany, invigorating vacations in thermal spas, golf tourism.
Wine tourism in Tuscanyand wine trails DOCG Chianti, Montalcino, Montepulciano, Bolgheri and in other Italian regions: Piedmont, Veneto, Alto Adige, Sicily.
Tradition, quality and uniqueness; your holiday with us will satisfy even the most discerning customer, in all seasons ...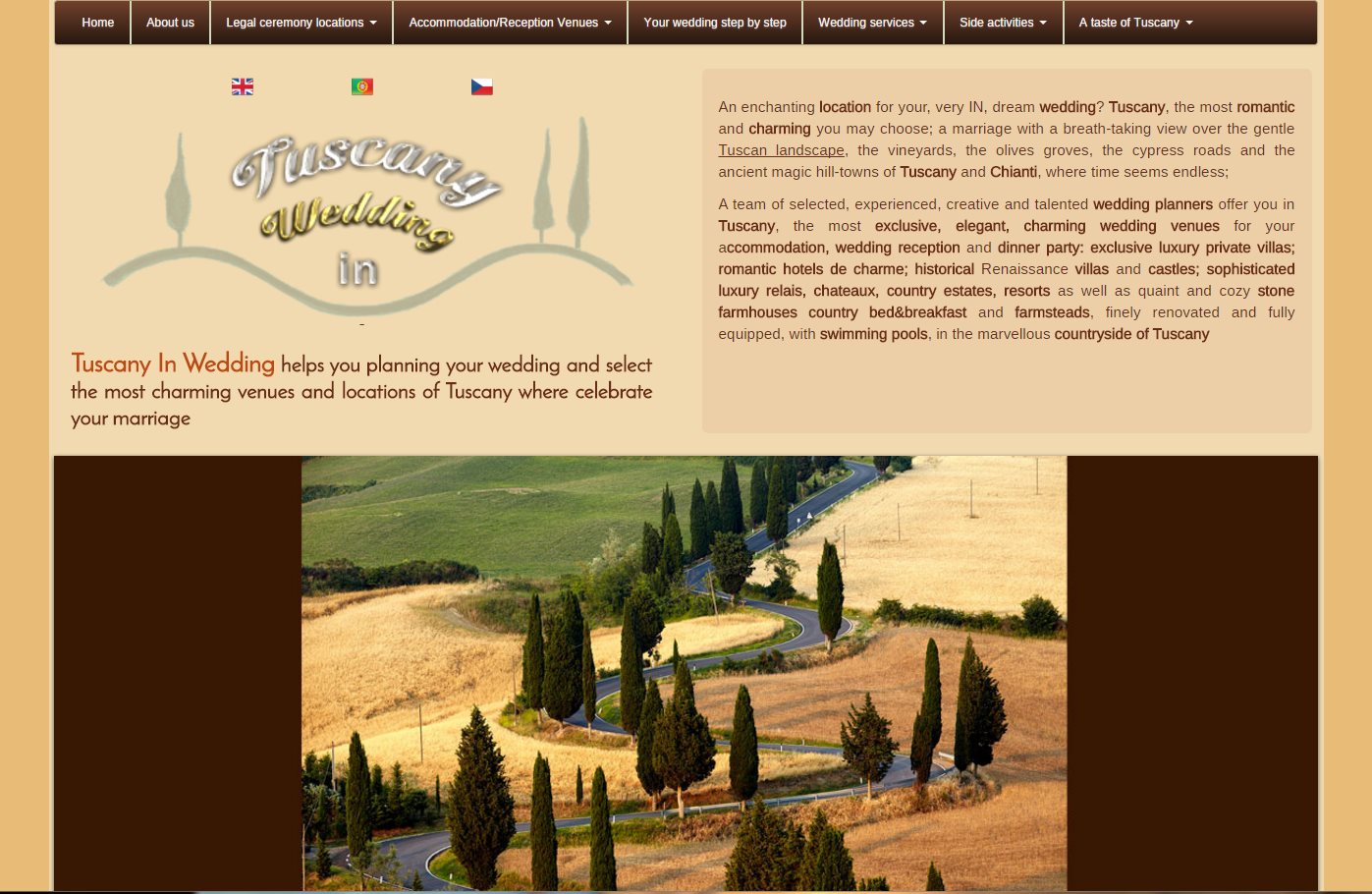 Tuscany In Wedding
An enchanting location for your, very IN, dream wedding? Tuscany, the most romantic and charming you may choose; a marriage with a breath-taking view over the gentle Tuscan landscape, the vineyards, the olives groves, the cypress roads and the ancient magic hill-towns of Tuscany and Chianti, where time seems endless;
A team of selected, experienced, creative and talented wedding planners offer you in Tuscany, the most exclusive, elegant, charming wedding venues for your accommodation, wedding reception and dinner party: exclusive luxury private villas; romantic hotels de charme; historical Renaissance villas and castles; sophisticated luxury relais, chateaux, country estates, resorts as well as quaint and cozy stone farmhouses country bed&breakfast and farmsteads, finely renovated and fully equipped, with swimming pools, in the marvellous countryside of Tuscany.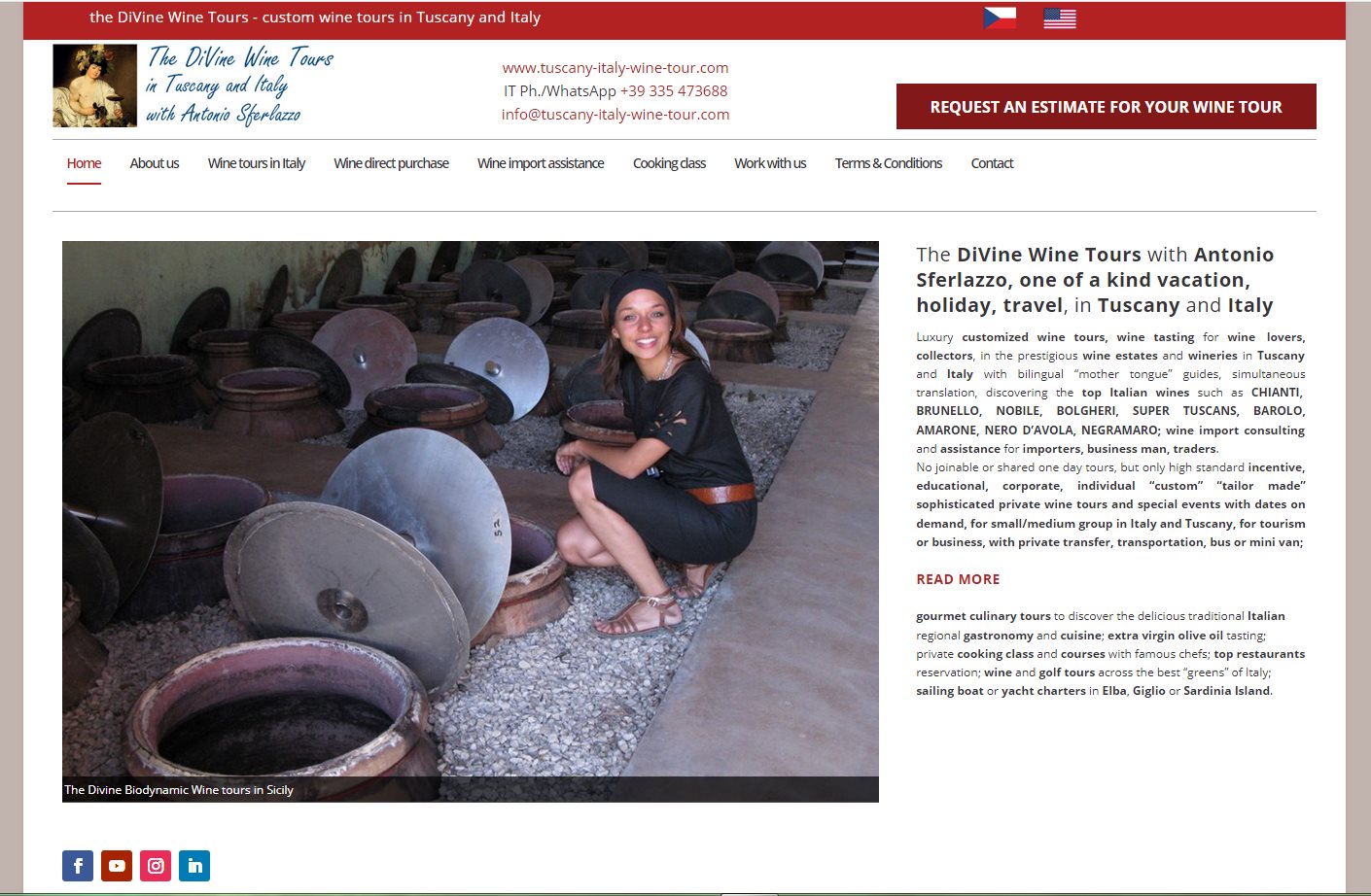 The Divine Wine Tours - EN
The DiVine Wine Tours with Antonio Sferlazzo, one of a kind vacation, holiday, travel, in Tuscany and Italy
Luxury customized wine tours, wine tasting for wine lovers, collectors, in the prestigious wine estates and wineries in Tuscany and Italy with bilingual "mother tongue" guides, simultaneous translation, discovering the top Italian wines such as CHIANTI, BRUNELLO, NOBILE, BOLGHERI, SUPER TUSCANS, BAROLO, AMARONE, NERO D'AVOLA, NEGRAMARO; wine import consulting and assistance for importers, business man, traders.
No joinable or shared one day tours, but only high standard incentive, educational, corporate, individual "custom" "tailor made" sophisticated private wine tours and special events with dates on demand, for small/medium group in Italy and Tuscany, for tourism or business, with private transfer, transportation, bus or mini van; ...