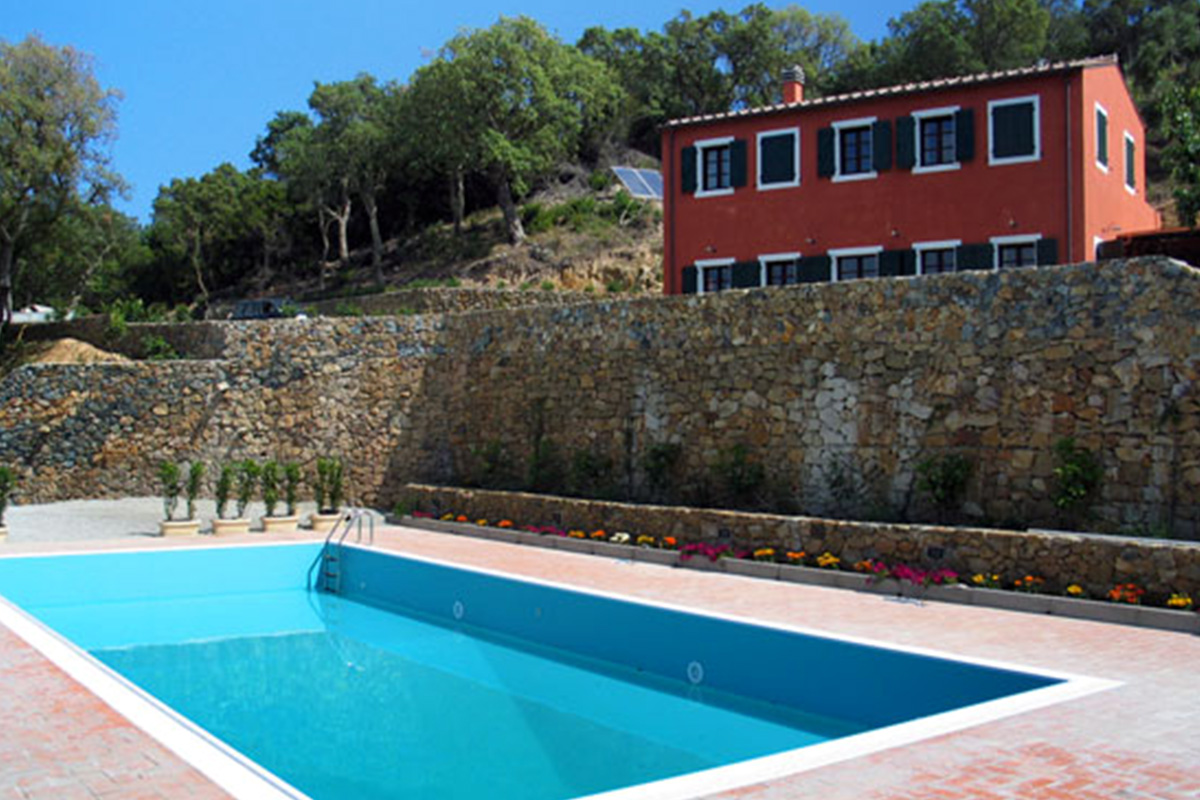 no document yet
Property Description
In the Island of Elba - thriving wine producing farm with farmhouse holiday apartments, enchanting position with a view of the sea. Producer of quality guaranteed Elba wine (DOC) and 'passito' wines (Moscato, Aleatico,Ansonica)
ASKING PRICE: details upon request (possible a separate purchase of the farmhouse holiday apartments and the wine producing farm)
- 8 hectares in all, divided into three portions of which 6.5 hectares of vineyard sangiovese, aleatico, moscato, ansonica, vermentino and cabernet, which produce approximately 55,000 kg of grapes. The farm also has the faculty of planting a f ...
... further 3.5 hectares of vineyard in 12 hectares of land conceded by the state for this purpose.
- a modern, newly built wine cellar of 750 sq.m on two floors, with all the most modern machinery and equipment necessary for the production, refinement, bottling and retail sale of wine.
- Farm holiday apartments in three separate buildings, covering a total of 470 square metres, elegantly renovated and furnished in the style of Elba with a panoramic view of the sea. The beds for 30 people are divided into double or triple rooms with bath; the farmhouse is equipped with kitchen, dining room, spacious and elegant 'gazebo', a 15x7m swimming pool , which can be heated by solar panels. Just a 5 minute car drive from the sea and the sea ferry port for which there is an enlargement project to become a tourist port
- 3 farm buildings of 15, 20 and 35 square metres which can be renovated and enlarged.
- annual production of 90,000 bottles of wine, of which 15,000 are 'passiti'. 90% of these are sold on the local market .
- current profit about 250,000€, current gross sales 600,000€ which could be rapidly increased by at least 30-40% with the new planned vineyards and above all by expanding the farmhouse holiday lets. The apartments were already fully booked by the beginning of July '06 and this side of the activity could be further boosted by developing a fitness and health centre which would lengthen the season . VAT payments are according to the normal regime and can be recuperated.
NOTICE: the farm is in an enchanting position situated in a part of the island which is still uncontaminated but which is under discussion to be developed as a tourist port. The structure seems to be sound and the obligations with the bank would remain responsibility of the present owner, who is also prepared to help a new owner in the transition period to taking over the activity. The owner is selling simply because having finished the renovation work and the building of the new wine cellar, he would like to do something else.
PhotoGallery: T ELBA RM 1